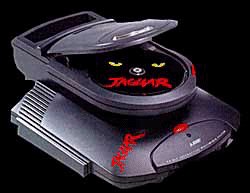 The Atari Jaguar with CD attachment

This information was originally on Atari's Jagwire site.
Jaguar CD Multimedia Player

How can you possibly make your JAGUAR more powerful? Attach an Atari double-speed CD player!

This high-quality CD-ROM unit plugs into any JAGUAR console.

CINEPAK technology delivers full-screen, true color, full-motion video and audio. You can even play your audio CD's, and watch as the built-in Virtual Light Machine kicks in to add dazzling on-screen effects to your music!