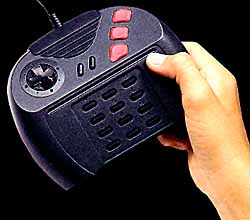 Atari Jaguar Controller

This information was originally on Atari's Jagwire site.
18-Button Controller

First there was only a knob. Then came a one-button controller. Later, two-button controllers surfaced, allowing for more technique and action. A few years ago, we were treated to three- and six-button controllers for more game play.

Now, with a total of 18 buttons, the Atari JAGUAR system offers more game play options than any other system. Even complex computer titles like Doom can be translated smoothly and effortlessly. Try that with a knob!